Interview with James Withana, Co-Founder of www.jumjuminc.com
Q1. Tell us about yourself
Hi! My name is James and I am 7 years old. I'm from Sri Lanka and I'm also one of the founders of www.JumJumInc.com
Q2. What is JumJumInc and how did this idea come about?
It is about helping other kids through these super difficult times with some positive words using PopArt taught by my Art teacher, Mr. Slone Lim at The Grange Institution. This idea came when me and my dad were chatting about kids who started their own company and we also wanted to create one of our own by the end of the year.
Q3. What personal goals do you think a kid-entrepreneur like you need? And why?
Integrity. I think what you do as a business needs to be helpful to others.
Q4. How do you think your education at The Grange has helped you?
The Grange has given me lots of ideas as I learn Music, Art, Science, Math, English, PSPE, Languages, Coding and interesting IPC Units of Learning.
Q5. How have your parents helped you in this process of starting JumJumInc? Would you like to say something to thank them?
A big thank you to Mum and Dad as they helped me with everything. They helped me to bring this idea to life. Which is why the name 'JumJum' is made up of our names.
Q6. What goal(s) have you set for yourself and JumJumInc?
I want to explore new designs and use new technology like holograms in the future for our e-store.
Q7. Give a call out to potential customers and supporters of this new venture of yours.
Whenever you come to our e-store, you will feel like you are still a child even when you are fifty! And thank you for your support!
Q8. I understand you have a sales discount just for families and friends at The Grange. Tell us about it.
Enter 'THEGRANGE' as your discount code when you buy anything and you will get a 15% discount specially for you!
Q9. Tell us about the underprivileged kids you are pledging to help in Sri Lanka. Who might they be and what motivated you to think about helping them?
There's a lot of orphan kids in Sri Lanka without school stationary. So I want to help them through JumJumInc.
Q10. What advice would you give your friends, classmates or any other children who might also want to become a kid-entrepreneur like you?
Pick something that you really love to do and use it to help others. You will need resilience because at first if your company doesn't workout, you can try and try again and may be in the future you will find success.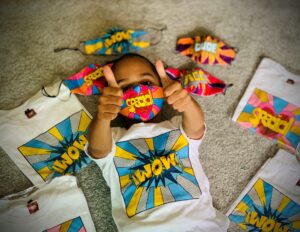 About Us JumJumInc is a manifestation of a young child's fervent wish to spread a little joy in a world at a time when it is sad, unhappy, scared and lonely. He thought that by drawing all the positive words he knew in his favourite style of contoured art—'pop art'—he would be able to bring a smile to someone's heart. And, why not? A quick brainstorm with dad and mum before bedtime, and JumJumInc ('Jum' is an acronym of the names of the three founding members) was born.
What we offer JumJumInc is made with lots of love, hope and good vibes. Home to an array of appealing, upbeat and positive energy words, JumJumInc offers you a range of lifestyle items, including clothing (kids' t-shirts), stationery (gift packs including pencils, erasers, sharpeners, rulers) and safety-wear (reusable, 100% cotton, face masks).