At The Grange, our safe management procedures since the start of COVID19 had been said to be very strict, often above and beyond what the local authorities mandated.
I had been through SARS before and had lost people I know to that fight; hence, there was no way I would let any of my loved ones at home and at school be taken victim by this COVID19 virus.
No man can do it all; I am blessed to have the whole community stand behind me these last months.
To show our care, the management and I have prepared 4 care packs so far for all our staff and students.
Care Pack 1: When masks were not readily available and scarce, we gave masks to everyone.
Care Pack 2: Replenishment of masks for everyone.
Care Pack 3: Right before we sent everyone home for the School Closure, we issued everyone a bag of 2 apples (An apple a day keeps the doctor away; 2 to keep the virus at bay!) and own-made sanitisers.
In the recent Back-To-School Care Pack 4, we prepared a sanitiser spray and an apple for the students, and a bag of anti-bacterial wipes and sanitisers for our staff.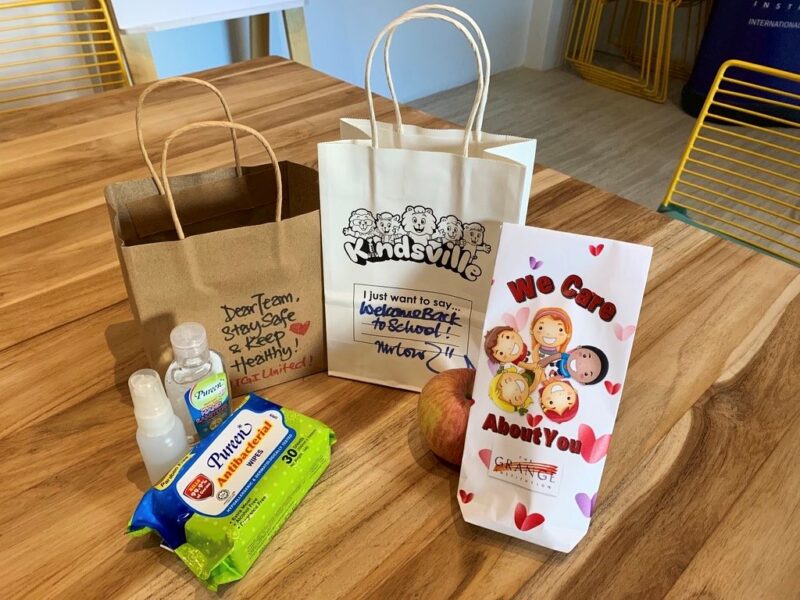 Semester One is ending soon. I wish all my staff and students, and their families, would continue to take good care of themselves, always!
Stay safe and Keep Healthy!
Best regards,
Eugene Low
Principal
The Grange Institution